(50% OFF Now!!!£©Magic Array Wireless Charger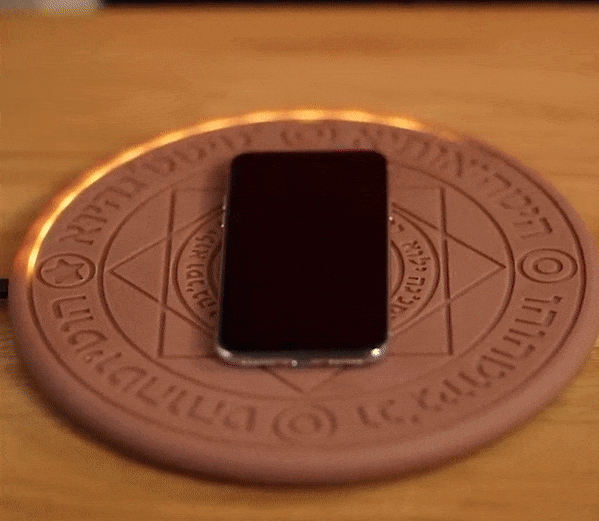 ¡¾Support All¡¿Supports all enabled wireless charging devices or devices with receiver such as iPhone 11/11 Pro/11 Pro Max/XS MAX/XR/XS/X/8. Samsung Galaxy Galaxy Note 10/Note 10 Plus/Note8/Note9/S10/S10 Plus/S10E/S9/S9+/S8/S8 Plus/S7/S7 Edge/Note 5. LG G4. S6. S6 Edge. S6 Edge Plus. Nexus 6. Moto Droid Turbo. Nexus 5/7(2013)/4. Nokia Lumia 1020/920/928. MOTO Droid Maxx/Droid Mini and Other Enabled Phones and Tablets.
Magic Circle Wireless Charger
This enchanting Summoning Circle will take wireless charging to the magical realm. It transmutes a smartphone's flat out battery to full without any cable and lights up in the process like a magic circle. This is definitely the coolest way to charge a phone and will be a perfect gift to an anime lover or a gamer

Inspired by the hit anime FullMetal Alchemist. a charger that will bring magic energy to any environment. Don't worry it won't cost an arm and a leg!
Your charging cable startspeelingand you arestuck with an ugly cord. Sound familiar? Well. now that is now a problem of the past with this amazingwirelesscharging feature. Compatible with Android. iPhone!
This eye-catching device providesvibrant lightsand a powerful tool to impress anyone who sees it. Not to mention thelightning-fast charging speed. It comes insevencolors
Specification:
Material: ABS
Diameter: 10 cm/25 cm
Connector: Micro USB
Pattern type: Magic Array
Battery type: Ni-MH battery
Charging current: 1200mA
Package Included:
1 wireless charger
1 USB cable
Notes:
Due to different monitors and light effects. the actual color of the item displayed from the color may be slightly different from the picture.
RETURNS POLICY
SHIPPING INFO Notes: 1) Shipping Time does not include a 1-3 day processing period required to process your order from the date your order is placed. 2) We will make every effort to deliver your package ASAP. However, additional time may be required due to invalid addresses and custom clearance issues. 3) Should your package not arrive within 30 business days after you have placed your order, you must immediately contact Customer Support within 30 business days after your order was placed. COVID-19 UPDATE: Affected by the Epidemic (COVID-19), logistics takes longer than ever. Shipping time may also be delayed as a result. Thank you for understand. But we will deliver the shipment to you as fast and as secure to you as we can!